Empresas e Direitos Humanos em Portugal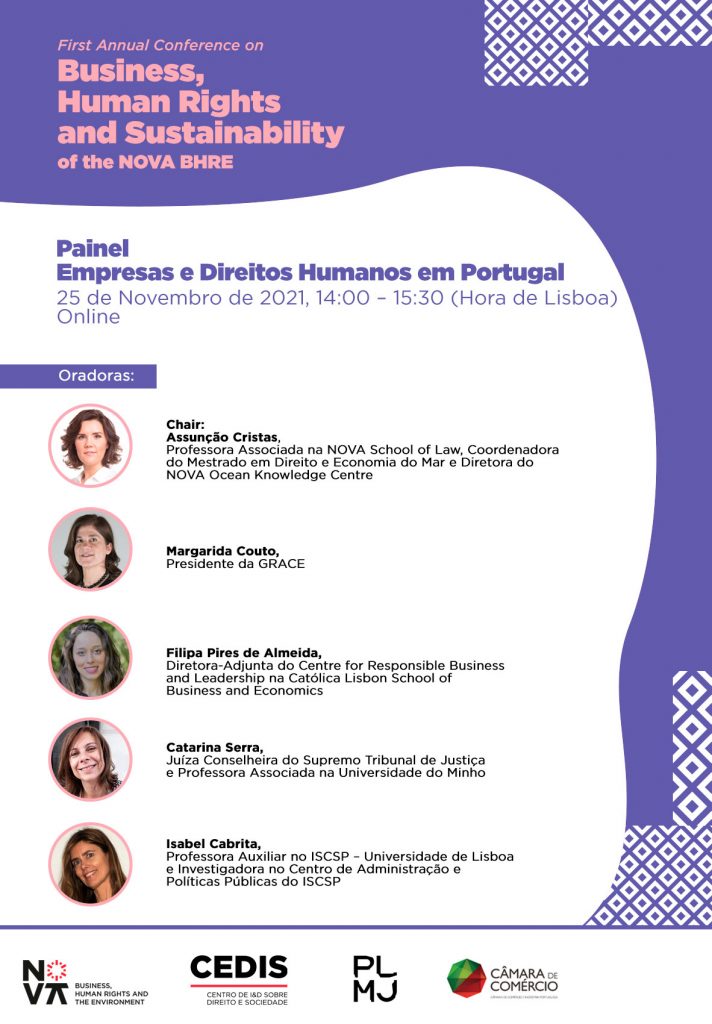 English: This panel aims to discuss what were the latest developments relating to Business and Human Rights in Portugal. Panellists will analyse the current legal framework in relation to corporate due diligence expectations in Portugal and the implications of the upcoming legislative developments at the EU level. It will also discuss the results of the First National Inquiry on Responsible Business Conduct in Portugal as well as the experience and challenges of companies on the grounds in relation to human rights and environmental due diligence. Finally, it will discuss expectations in relation to the upcoming Portuguese National Action Plan on Business and Human Rights.
Português: Este painel visa discutir quais foram os últimos desenvolvimentos relacionados com o tema de Empresas e Direitos Humanos em Portugal. Os membros do painel irão analisar o atual quadro jurídico em relação às expetativas de due diligence das empresas em Portugal e as implicações dos próximos avanços legislativos a nível da UE. O painel também irá debater sobre os resultados do Primeiro Inquérito Nacional sobre a conduta empresarial responsável em Portugal, bem como a experiência e os desafios das empresas no que diz respeito aos direitos humanos e à diligência devida em matéria ambiental. Finalmente, o painel irá abordar as expetativas em relação ao próximo Plano de Ação Nacional Português sobre Empresas e Direitos Humanos.
Chair: Assunção Cristas, Professora Associada na Nova School of Law, Coordenadora do Mestrado em Direito e Economia do Mar e Diretora do NOVA Ocean Knowledge Centre
Oradoras:
– Margarida Couto, Presidente da GRACE
– Filipa Pires de Almeida, Diretora-Adjunta do Centre for Responsible Business and Leadership na Católica Lisbon School of Business and Economics
– Catarina Serra, Juíza Conselheira do Supremo Tribunal de Justiça e Professora Associada na Universidade do Minho
– Isabel Cabrita, Professora Auxiliar no ISCSP – Universidade de Lisboa e Investigadora no Centro de Administração e Políticas Públicas do ISCSP
Empresas e Direitos Humanos em Portugal
25 de Novembro
Hora: 14:00 to 15:30 (Lisboa)
O painel será em português